Keeping our clients business image in mind, we implement the promotional mix that is most appropriate to reach our clients target market. Ad design and placement is key to successfully reaching the desired recipient. Our advertising and marketing team works closely with our clients to ensure a successful advertising and marketing campaign. Whether its print, radio, television, or public speaking engagements, our professionals will demonstrate how your product or service is better through highlighting the advantages compared to your competition.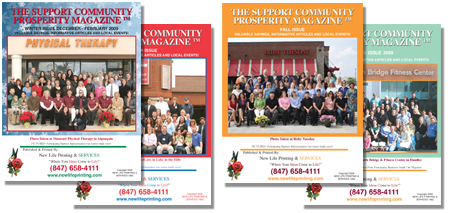 The Support Community Prosperity Magazine is a local quarterly publication that highlights local businesses. The publication allows the business or professional service person to educate the local consumer about what they do or what services are available. Inside the publication is a full calendar of local events, giving the magazine longevity in the household. Radio spots are also offered with this publication.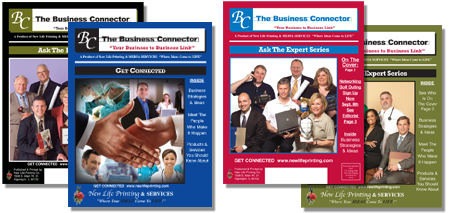 The Business Connector Magazine educates businesses throughout the area about your company's products, services and key people in your business who make it happen. Linking businesses and highlighting services, makes The Business Connector an ideal source to promote your company's product or service. Radio spots are also offered with this publication.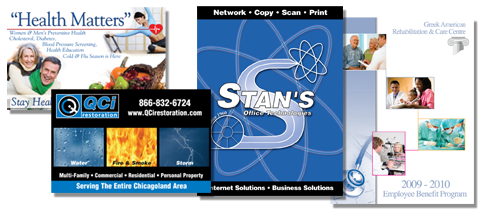 We understand that reaching your target market is the cornerstone of your business. What more direct way to reach your customers than with direct mail. We offer up-to-date mailing lists both general or category specific so that our clients reach the market that will bring them customers. Our in-house labeling service with delivery right to the post office ensures that our clients direct mail piece reaches its destination promptly. From business cards to full print media packets we make sure that your business IDEAS Come to LIFE!
New Life Printing & SERVICES is experienced in designing comprehensive print media packages. This includes composition, design, product photography, black and white and multi colored print for many small and large industrial and commercial companies across the United States. Company manuals and custom folders are a few of the more common literature packages New Life Printing & SERVICES prepares. Our web design package is an all-inclusive program that promotes your company online. Your Internet presence is designed to correlate with your print media program.